Term 2 Week 4! Welcome Back!
The was a palpable sigh of relief heard across the peninsula when it was announced that schools were going back. No more home schooling, no more fretful zooming. There's nothing more stressful than conducting a while simultaneously looking over your shoulder to make sure the kids haven't filled the dishwasher with the dog. Ah, the memories.
Anyhow, it's good to see so many familiar faces, and where looking forward to the coming weeks. I'm sure the kids have stacks of funny lockdown stories you don't want them to share… but we'll coax them out don't you worry.
As you know, TKC has been open throughout the lockdown, and with the exception of a few less little people to trip over, it has been 'business as usual', sort of.
Ch…Ch…Ch… Changes!
Sorry, Mr Bowie. But yes, there have been a few changes.
Firstly, we're now using a company called Xplor to manage all our bookings and enrolments. Some of you may already be acquainted with them through long day care. It's a great system, easy to use and very intuitive (even I can use it)
Here's a handy link that contains our new email address and an embedded link to Xplor (I sound so technical, "embedded")
And of course, check out our cool new logo.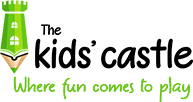 Other cool happenings.
Wellness sessions. In week three, we started providing wellness sessions for the kids to help ease any worries or anxiety. They were facilitated by Amanda Anderson from Pink Elephant Kids, and I have to say have been brilliant. They take lace of Tuesday and Thursday afternoons from 3:45 pm and are free for those enrolled in The Kids' Castle. See attached for more info.
A shout out
A belated BIG thank you to Jamie Turner who donated the very cool Axolotl habitat (the tank) and all the bits and bobs that make it even cooler. We love our Axolotls and have decided that they'll have their own section in the next newsletter, called 'Think Tank'.
Short and sweet
Well, that's it. If there's anything you need to know or need help with, except astrophysics, please drop us a line.